Interests
Canadian/comparative housing policy and governance
Urban growth and development; structural change in cities
Immigrant settlement and integration; ethnic neighbourhoods
Transportation behaviour and patterns of special demographic groups; transportation policy and governance
Courses
 Master's Thesis Colloquium (10200Y: University of Amsterdam, Winter 2013)
This research colloquium (co-taught with Luca Bertolini and Roel ter Brugge) is designed to guide Masters students in Planning in the design and writing of their theses. It is taught in parallel with a research methods course and allows students to debate the application of a range of methods to answer their own research questions and test methodologies in a colloquium environment. Students have two meetings with the larger group and three with the smaller group (5 students) before submitting their research proposals. Masters students in the one-year planning degree begin developing their theses in February and finish fieldwork and writing by the end of the summer.
Course Syllabus 2013 [download PDF (91K)]
Metropolitan Transport Planning (10080Y: University of Amsterdam, Fall 2012)
This Masters-level course (co-taught with Luca Bertolini) gives students the technical and professional skills to plan transportation in a metropolitan environment. Students gain knowledge of planning and policy-making methods: problem analysis (forecasting and evaluation), design of innovative solutions and decision-making processes. They learn to distinguish the different roles of planners in transport, traffic and infrastructure issues in relationship to spatial planners and to reflect critically on published plans and reports. They use this knowledge and skills to identify and structure a metropolitan transport planning problem and devise a strategy for its solution. The course is structured with a lecture and a working group/studio each week in Block 2, the six-week block from the end of October to the beginning of December. During the working group, students work on exercises designed to help them articulate their planning problem and solution.
Course Syllabus 2012 [download PDF (176K)]
Introduction to Contemporary Planning Issues (PLAN 425: University of British Columbia, Fall 2008 and 2009)
This course has for many years been the only undergraduate course offered at the School of Community and Regional Planning (SCARP). It's always been a major source of graduate students for the Masters programme, so James White and I redeveloped the course as a primer for undergraduate students interested in a future career in planning. We taught PLAN 425 for two years.
The course introduced students from various undergraduate degrees (geography, economics, business, psychology, landscape architecture, etc.) to the seven areas of concentration at SCARP at that time: Urban Design and Physical Planning, Urban Development, Regional Planning, Ecological and Natural Resource Planning, Comparative Development Planning, Transportation Planning, Community Development and Social Planning, and Disaster and Risk Management.
Course Syllabus 2009 [download PDF (103K)]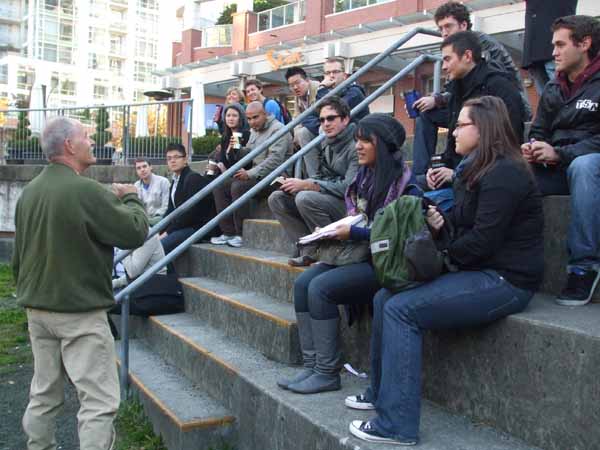 Course Syllabus 2008 [download PDF (100K)]
Many of our students went on to Masters programs in planning, environmental design, and sociology at UBC, University of Calgary, University of Toronto, McGill University and the University of Cardiff (Wales).



Invited Lectures
"Urban research methods" (with Sage Ponder, Liam McGuire, Emily Rosenman, and Sam Walker). Urban Research (GEOG 450, Dr. Elvin Wyly), UBC Department of Geography. January 17, 2012.
"Demographic shifts and transit provision." Canadian Urban Transit Association Youth Summit on Sustainable Urban Transportation. Vancouver. August 21, 2011.
"The need for a Canadian perspective in planning" (with Silvia Vilches). School of Community and Regional Planning (SCARP) Lecture Series, March 9, 2011.
"Mixed method approaches in urban planning." Urban Analysis (GEOG 450, Dr. Elvin Wyly), UBC Department of Geography. January 11, 2011.
"Housing, transportation, immigration and the city." Urban Studies (URB 200/GEOG 250, Dr. Elvin Wyly), UBC Department of Geography. December 2, 2010.
"Social Travel Patterns of Youth and Young Adults." Qualitative Methods (PLAN 515, Silvia Vilches), UBC School of Community and Regional Planning. February 13, 2008.
Guest Criticism
UBC School of Community and Regional Planning (Revelstoke Urban Design studio PLAN 548L, James White). November 9, 2011.
UBC School of Architecture and Landscape Architecture (Robson Square Landscape Architecture studio LA 504, Alyssa Schwann). October 3 and 19, 2011.
University of Oregon Department of Architecture (field studio on Granville Island, Stephen Duff). May 13, 2011.